In a society where a simple twist of the faucet instantly provides as much clean, safe water as you want, the idea of a water crisis may seem absurd. However, the fact is that water shortages are becoming more and more common, even in developed countries, as freshwater rivers, reservoirs, and aquifers are increasingly overdrawn to support human activities, from agriculture to daily showers.
Water scarcity is most noticeable in developing countries with little or no water infrastructure, but it is beginning to affect arid and semiarid regions of the developed world as well. For example, water levels in Lake Mead, which supplies drinking water to Las Vegas and other fast-growing cities in the US Southwest, reached a record low in 2010 and are again dropping in 2012 after a brief recovery. The Mediterranean region of Europe and many parts of Australia are also experiencing increasing water shortages. Climate change is expected to make the problem even worse in the coming years and decades, as droughts become more frequent and longer-lasting in many regions of the world.
All the world's problems can be solved in a garden.
– Geoff Lawton
As a gardener, you have an incredible opportunity to help solve the worldwide water crisis. The choices you make when designing and tending your yard and garden can help make a difference between a world where water is abundant, cheap, fresh, and clean, and a world where water is scarce, expensive, and unsafe. In the United States, 50-70% of all residential water use is used in the garden. By designing and maintaining your garden to reduce the amount of water it uses, you can cut this amount substantially, and in some cases even eliminate it entirely. A water-wise garden can also help prevent water pollution by reducing stormwater runoff, and save money by reducing your family water bill!
Plan for a Water-Wise Garden
An ounce of prevention is worth a pound of cure, even in the garden. If you're just starting your first garden, or you're expanding an existing one, it will be easier for you to take steps to reduce water consumption than if your landscaping is already well-established.
Here are some steps you can take when creating your garden to ensure that it use water wisely:
Know thy yard. Before diving in and starting to plant, spend a little while getting familiar with your yard and how water behaves in it. Does your soil drain quickly or slowly? Is there a sunny slope that's hot and dry as the Sahara, or a depression by the rain spout that thinks it's a swamp? These types of observations will help you figure out how to plant your garden most effectively to reduce its water consumption. For example, you can throw gallons upon gallons of water a day on a hot, dry slope and still struggle to keep a lawn alive there, while a drought-resistant groundcover such as yarrow might thrive. Similarly, a swampy patch is a great opportunity to plant thirsty beauties like iris and marsh fern without worrying about running up your water bills.

Add organic matter. Organic matter such as compost is the great cure-all for soil ailments. It not only improves soil structure and aeration and adds nutrients for plants, it also soaks up water like a sponge and releases it slowly and gradually as the surrounding soil dries out. This improves both water drainage in clay soils and water retention in sandy soils. Shredded leaves, which can be used either as a soil amendment or a mulch, are particularly good at storing water, but compost, aged manure, and other types of organic matter are also good. Add as much organic matter as you can afford or find when preparing your garden and you'll be rewarded with years of reduced water usage.

Double-dig. Double-digging garden beds helps loosen and aerate the soil, encouraging plants to stretch their roots deep into the ground. Deep roots increase drought resistance because they enable plants to find moisture trapped deep below the surface.
Contour the soil. Soil contouring is an advanced gardening technique that you can use to catch and direct water. The most common example is a drainage ditch used to direct stormwater runoff off the property. However, if you're interested in conserving water, it's generally wiser to figure out how to keep water on your property and direct it instead to where it will do the most good. For example, you can place thirstier plantings in broad, shallow, dish-shaped depressions to encourage rainwater to pool in the area and water the plants. Creating a swale, a shallow trench laid out on contour, is another way to slow and direct the flow of water across the land. Check out this video to learn about the amazing effect a well-planned swale can have even on some of the most dry and barren land in the world: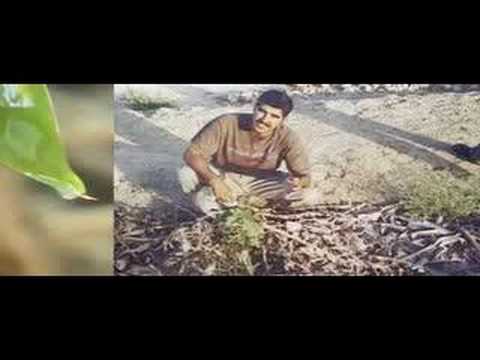 Choose the right plants. Different regions of the United States have very different climates and rainfall patterns, yet all too often it is impossible for a traveler to tell whether he or she is in Arizona, Florida, Kansas, or Maine by looking at the landscaping. In a world of looming water shortages, this is folly. Design your garden to match your climate and rainfall patterns by researching plants that are native or naturalized to your region. Because they are adapted to your local conditions, most will thrive with no additional watering once established.

Plant in zones. By planting in watering "zones," you can avoid wasting water by watering thirsty plants that genuinely need watering and drought-tolerant plants that don't at the same time. Group your thirstiest plants together in natural or created wet spots in your yard, or close to the house where you can easily observe their condition. Group drought tolerant plants in drier and more distant areas of your yard.

Mulch. Mulch shades and cools the soil, reducing evaporation so you don't need to water as frequently, and reduces competition for precious water and nutrients from weeds. Depending on the type of mulch, it may also add more organic matter to the soil as it breaks down and improve habitat for earthworms, whose burrows and castings improve soil drainage and structure. You can also use dense plantings and groundcovers as living mulch.
Reconsider the Lawn
In the United States, 50-70% of all residential water use is used in the garden, nearly all of it to water lawns.
For 100 years, a lush green lawn has been one of America's favorite status symbols. Unfortunately, lush, green lawns are also one of the worst water guzzlers on the planet.
If you are serious about conserving water in the garden, the single best thing you can do is to get rid of your lawn, or better yet, not plant one in the first place. Depending on your region and tastes, you have many options to replace it. A few of my favorites include:
drought-tolerant groundcovers such as clover or thyme
damp-tolerant groundcovers such as moss
shade gardens
meadow or prairie gardens
xeriscapes
edible landscapes
Here are some more great lawn alternatives:
Beautiful No-Mow Yards: 50 Amazing Lawn Alternatives
by Evelyn J. Hadden
Price: $16.08
71 used & new available from $1.98

(74 customer reviews)
Even if you can't quite bring yourself to get rid of your lawn entirely, there are ways that you can reduce the amount of water it uses, and even the amount of water it needs.
Let cool season grasses go dormant. Most popular lawn grasses are cool season grasses that naturally turn brown and dormant during the hottest months of summer. You can keep them green with regular watering, but should you?
Switch to warm season lawn grasses. Though slower to green up in spring, warm season grasses such as zoysia and buffalograss stay green all summer with far less water than cool season grasses.
Water deeply but infrequently. Watering less often for longer periods of time encourages your lawn to develop deep roots and makes it more drought resistant. Except during the very hottest weeks of summer, most cool season grasses don't need to be watered more than once a week to stay green, and warm season grasses may not need to be watered at all.
Cut your lawn higher. Simply cutting your lawn higher – at three inches instead of two, for example – can reduce your lawn's water needs because the extra height helps shade and cool the soil, reducing evaporation.
Use Every Drop
In addition to taking steps to reduce the amount of water your garden needs to thrive and look beautiful, you can also conserve water by changing wasteful watering practices.
Don't water the pavement. When placing sprinklers, arrange them as carefully as you can to minimize the amount of water that lands uselessly on driveways, sidewalks, and other impervious surfaces.
Water in early morning or late afternoon. Watering in the middle of the day wastes a lot of water thanks to evaporation, but watering too late in the day may encourage rot and disease if the plants stay damp all night. In most regions, watering at sunrise or in the late afternoon are the best choices to ensure healthy plants without wasting water.

Water close to the soil.Using an overhead sprinkler to water your garden is wasteful because it leaves too much water on leaves, where it is easily evaporated, especially on sunny or windy days. Watering close to the ground puts the water where the plant needs it – in the soil. The most efficient choice is a drip irrigation or soaker hose system. When watering by hand, a watering wand can help you guide the water onto the soil without too much bending over.
Along with smart watering techniques, you can also collect and reuse other types of water to help keep your yard lush and green even during periods of water restrictions:
Rainwater harvesting systems collect rainwater that falls on roofs and other impervious surfaces on your property and stores it for future use. A single inch of rain falling on a typical 1,200 square foot roof will produce 748 gallons of runoff! Rainwater harvesting systems can range from a simple rain barrel to large tanks or cisterns capable of storing thousands of gallons.

Greywater recycling systems collect and reuse greywater – used water from sinks, showers, washing machines, and dish washers (

not

toilets) – to water the landscape. Though illegal in some parts of the country, greywater recycling is becoming more common in others, especially drought-prone regions with frequent water restrictions, because it allows homeowners to save money and conserve water during droughts without sacrificing the health or beauty of their landscape.
Give Back to the Land
In addition to using less water, gardeners can also help fight the problems of dwindling freshwater supplies and polluted lakes, rivers, and streams by designing their gardens to give back to the land. Gardeners of a spiritual bent may like to think of this as a sort of thank-you present to the Earth and its ecosystems for sustaining us, but there are practical reasons to do it as well.
One of the biggest causes of water pollution is stormwater runoff. As we discussed above, rainwater harvesting is one way you can reduce the amount of stormwater runoff that leaves your property. By catching it and using it to water your landscape, you not only conserve water and save money on watering bills, you also allow the water to sink back into the soil, which cleans and purifies it thanks to the actions of soil microbes,  helps replenish natural soil moisture, and even re-fills underground aquifers. This results in cleaner, safer, and more plentiful water for everyone – people and animals alike.
Here are some other ways you can help purify and replenish local freshwater streams, rivers, lakes, reservoirs, and aquifers:
Design for permeability. Patios, sidewalks, driveways, and alleyways made from permeable pavement or recycled rubber allow rainwater to soak into the cleansing soil instead of rushing off into storm drains and contributing to water pollution, depletion of local freshwater resources, and flash floods in times of heavy rainfall. If you live in a cold climate, they can also help prevent slips and falls by preventing melted snow from pooling and re-freezing as ice during the winter.
Plant a rain garden. Rain gardens are an especially beautiful way to help runoff soak back into the soil. They are typically placed in a naturally wet or low-lying part of your yard and contain plants that capture and cleanse rainwater before allowing it to sink into the soil.
Protect riparian areas. If you happen to live next to a creek, stream, river, or lake, you can do your part to protect its water quality by planting a riparian buffer zone. Riparian buffer zones are plantings of shrubs, trees, grasses, and wildflowers along waterways that prevent polluted stormwater runoff from contaminating the water. A well-designed riparian buffer also provides many other benefits, including flood control, erosion control, wildlife habitat, and wood, fruits, nuts, and other products for human consumption.
Protect animal engineers. In recent years, scientists have learned about the important role some animals play in managing local water supplies. Long considered a pest on Western ranches and properties, prairie dogs may in fact play an important role in replenishing groundwater, such as the rapidly declining Ogalalla Aquifer, by channeling water deep underground through their burrows. Beavers, once hunted nearly to extinction for their soft, dense fur, are also master water engineers that slow the flow of water across the landscape and create habitat for a wide variety of fish, waterfowl, and other wildlife. If animal engineers show up in your yard or neighborhood, work with local wildlife agencies to relocate them to more appropriate homes instead of poisoning or shooting them.
Conserve wetland areas. If your yard happens to include or neighbor a natural wetland area, learn what you can do to help conserve and restore the native wetland ecosystem. Wetlands play a critical role in purifying water and preventing floods, and also provide habitat for many species of wildlife.
With these tips, you can create a lush, beautiful, and sustainable landscape while saving water and money. It's a win-win situation for you and the Earth!